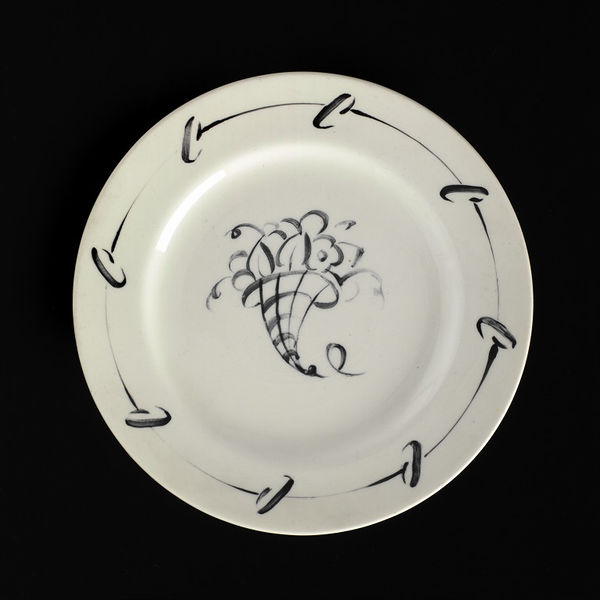 Dora Billingtron. Design for J & G Meakin (Victoria and Albert Museum)
Dora Billington is one of those artists who are best known for the people she taught rather than for her own work. Among her students at the Central School of Art and Craft (now Central St Martin's) were Alan Caiger-Smith, William Newland, Gordon Baldwin, Quentin Bell, Katherine Pleydell-Bouverie, Ruth Duckworth and Ian Auld.
Julian Stair observed, "History has not been kind to Dora Billington. Her strength lay in the diversity of her contribution to studio pottery. But it was perhaps seen as a weakness that her creative output as a potter and designer, author and critic, as President of the Arts & Crafts Society and as a teacher is difficult to categorise."
Dora Billington (1890-1968) was born in Stoke-on-Trent, studied at Hanley School of Art and went to work for the art potter Bernard Moore. She then trained at the Royal College of Art, soon running their pottery class. In 1919, she moved to the Central School of Arts and Crafts, where she helped to build up the pottery department, retiring in 1955. While running the department, she continued to work for industry, designing for J. & G. Meakin. She said, "Because I grew up with industry, I have the feeling that pottery, whether mass-produced or studio pottery, is one thing."
As a teacher, Billington introduced students to a variety of materials and methods, insisting on hand building as the basis of making, and encouraging work in earthenware, stoneware and porcelain. In the 1950s, she championed three of her students who worked successfully in tin-glazed earthenware,
William Newland, Margaret Hine and Nicholas Vergette
, calling their ceramics "The New Look in British Pottery". She considered that their work, based on European rather than oriental traditions, was "more in tune with current ideas in house decorations and design generally."
Billington's studio pottery seem to be variable, but it is hard to find examples of her work to judge. Part of the reason she is overlooked may be her eclecticism. However, she excelled as a decorator of factory-made pottery, as these pieces (
above
) from the V&A collection show, and she is arguably the equal of Susie Cooper and Jessie Tait.
She is often mentioned, but the same few things are said about her over and over again (more or less what I have said here). Museums have little of her work and it is difficult to find out much about her. Yet she she was President of the Arts and Crafts Exhibition Society for sixteen years and she was involved with the Crafts Centre (a predecessor of Contemporary Applied Arts). I would very much like to hear from anyone who has any of her work, who has any letters or documents, reminiscences or family connections. Do please leave a comment if you can help.
Julian Stair, "Dora Billington", Crafts, September/October 1998
Dora Billington, "The New Look in British Pottery", The Studio, January 1955
Please click here if you would like to subscribe to my newsletter